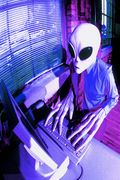 April Fools day has come and gone with out the predicted attack from the Conficker C virus that was set to wreak havoc on computers across the world. But this doesn't mean that the threat is over, or forgotten. The virus is still out there and could be introduced to the world at any time. So far Conficker has infected anywhere from 12 million to 15million computers since early 2009 which includes everything from Windows 2000 to the Windows 7 Beta and Windows Server 2000 and 2008.
As many as one out of every 25 Internet addresses that transmits potentially dangerous data over the Internet is infected with the Conficker.c worm, IBM's security arm said today. (April-02-09) The worm is so advanced its designed to mature into new versions and can avoid eradication.
Those at the greatest risk are small and medium sized businesses. They should update everything related to their operating system and do everything possible to update their anti-virus and anti-spyware protection. Although the dreaded virus didn't hit on April Fools Day doesn't mean we have seen or heard the last of the Conficker.c worm. No one really knows what the full force of this virus might be, and let's hope we can avoid finding out.